Eye Surgery Co-Management from Our Optometrist in Fairburn
Eye surgery co-management is a crucial part of healing and plays an important role in having a good outcome. At Jackson Eye, we specialize in cataracts co-management and LASIK eye surgery co-management to guide our patients from diagnosis to recovery.
Our clinic has an optometrist in Fairburn, GA, that is trained to recognize signs and symptoms of cataracts and refractive errors that can benefit from LASIK surgery. We know just how important it is to refer our patients to the very best surgery specialists, and work together to promote the well-being and eye health of our clients!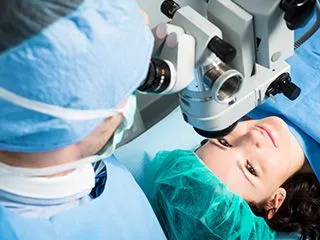 What Are Cataracts?
A cataract is a condition of the eye where a cloudy film covers the lens of the eye. This causes a variety of symptoms, including:
Blurry vision
Difficulty seeing at night
Glare
Seeing halos
Double vision in one or both eyes
Colors looking faded or yellow
An eye doctor will be able to determine if your visual disturbances are due to cataracts or if they're due to something else, such as refractive errors.
Do I Need Surgery for Cataracts?
The best treatment for cataracts is surgery to remove the cloudy film that covers the eye. However, some people might not be able to have cataracts surgery due to risk factors that can complicate surgery, including:
Diabetes
High blood pressure
Obesity
Our eye surgery co-management services can help you determine if cataracts surgery is the correct treatment option. They can also help with follow-up procedures to make sure the cataracts surgery was a success.
What Is LASIK Surgery?
Many vision issues can be attributed to refractive errors in the eye. These are caused by a misshapen cornea that causes light rays not to be refracted properly, which causes the retina of the eye to be unable to focus images clearly. LASIK surgery corrects these issues by using a non-invasive laser surgery to permanently change the shape of the cornea.
LASIK surgery is a great treatment option for such refractive errors as:
Myopia, or nearsightedness
Farsightedness
Astigmatism
LASIK surgery should only be done on people with these refractive errors, and might not be the best treatment option for such issues as lazy eye. Our LASIK co-management services can determine if LASIK is right for you.
Get Help Today from Our Eye Doctor in Fairburn
At Jackson Eye, our eye doctor in Fairburn, GA, will provide co-management services to help diagnose you with cataracts or a refractive error, set up a surgical appointment to correct these issues, and monitor your progress thereafter. Call us today to get your vision back on track, at (770) 629-4351.